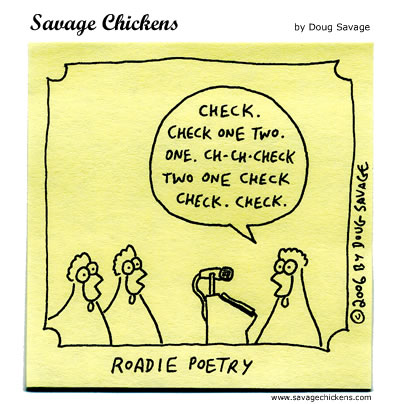 I went into the room feeling both excitement and distress. Excitement, because I had been asked to read a poem I'd written. And distress, because I'd been asked to read a poem I'd written. It was the thing that was foremost in my mind as I said my "Hi-s" and "Hello-s", and stole biscuits off the trays.It's been a long time since anyone has shown any interest in my writing. It's been a long time since "I" have shown interest in my writing. I've written no new stories, and no new poetry. I've somehow, let myself be defeated by my own mind, always thinking about how difficult writing is. I even use my art as an escape. I draw, because I cannot seem to write.
So reading my poetry, in front of a public audience, when I've never even let my own friends or family read them before seemed like such a huge step. And the random people of the internet who have read my writing cannot be compared to people who will be standing, and "listening" right in front of me.
It happened yesterday. I stood in front of a podium. I was flustered, so I joked around like I usually do, shrugging it off. I was just one among six others, so it wasn't really anything special, but it was special to me, as all first times are. I don't know if I'll start writing poetry again. I don't know if I'll start writing again. I am always held-back by my own thoughts, which I am trying to change.
I've changed many things for myself this year. I've decided to be more involved in friendships, to be more honest with my emotions, to speak more freely, to be, in fact, more open. It may not be hard for others, but it is a challenge for me. Reading too many books has gotten me used to always knowing what is in the characters' minds. I felt, as a child, that characters in books were truer, more honest friends, than anyone I could ever possibly meet in real life. This wasn't a concrete thought in my head. But I now realize, as an adult, that I was a very distrusting child. If they weren't family, then I spent too much time wondering over their motivations, wondering why they were talking to me, wondering why they wanted to be my friend. All the thinking finally became too bothersome. I escaped into my books again, where things were easier, and you could predict the ending.
Things have only changed for me this year, because I actively fought for that change. And most of the fighting was done with myself. I realized the only person truly holding me back was me. I still find it hard, but that's because I've got two decades worth of bad habits. And there's no "Eureka" moment like in all the movies. No, inspired, Coach Carter-type person who suddenly comes into your life and puts you on the right path. I realize that it's still just me. Still just my thoughts fighting with my doubts. That there is no "Eureka" moment, but just small opportunities for change that I can either choose to take, or let pass me by. That there are inspiring people, but they come in small, subtle, doses, in the form of friends, family, and newly met acquaintances. That they can be blogs on WordPress or just pictures on Tumblr. And that I can either choose to let myself be inspired, to be changed, or I can hold myself blind and ignore everything.
I still don't know if what I'm doing is working. I've joined art exhibits, gone back to school to finish my thesis, and tried to be closer and more dependable as a friend. But despite these small successes, I am still plagued by thoughts of what I didn't finish. Of the loose-ends I still haven't tied up. I don't know if I've moved forward for good, or if I've taken two steps back.
But small steps are all I can take. And if being more "open" means accepting an opportunity to read my poetry in front of others, then that's what I did. And I feel…lighter.